Montante mollegg.anter./amortizzatore
BMW M3 E46
Cabrio Europa
S54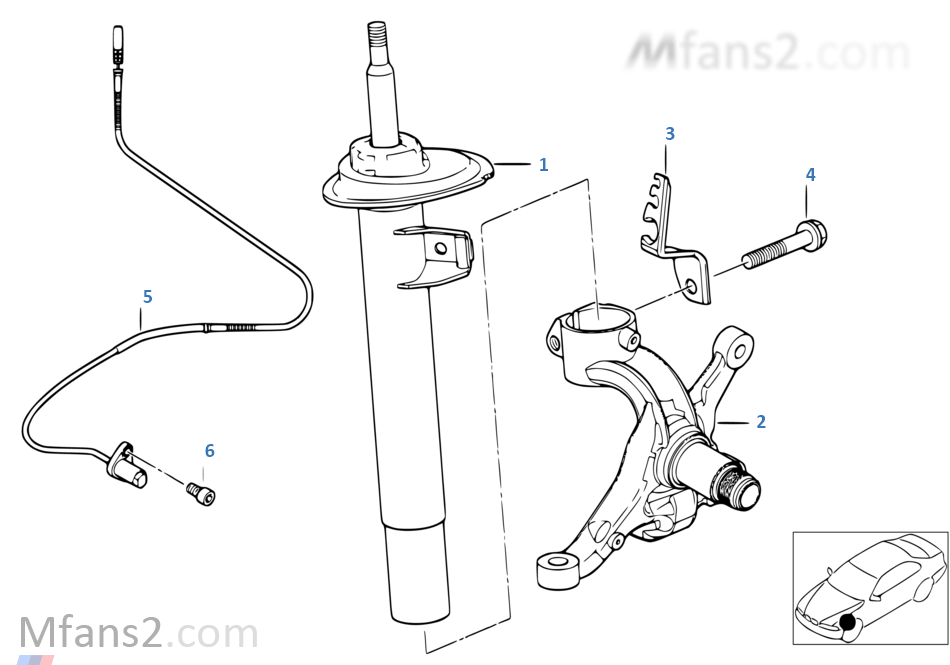 Supplemento
In caso di sostituzione del gruppo Molla/ammortizzatore è assolutamente Necessario il seguente componente: Silenziatore suppl. ant.
#
Descrizione
partnumber
Supplemento
Data

Quantità

Carico
Prezzo

EUR

Montante molleggiato anter.sinistra

1

+

Info

Necessario per la riparazione

1
Montante molleggiato anteriore destra

1

1
Fuso a snodo sinistra

2

1
Fuso a snodo destra

2

1
Sostegno p condotto ABS/BVA sinistra

3

1
Sostegno p condotto ABS/BVA destra

3

1
Vite Esagonale con Rondella

4

2
Generatore d'impulso ABS

5

a set '02
2
Vite Isa

6

2
The contents of the BMW M parts & accessories catalog provided for acquaintance purposes only.
Part numbers, descriptions, prices and applicability information have been obtained from public sources on the Internet. We are not responsible for any data inconsistency and possible inconvenience caused. Contact your local parts supplier to get precise information about parts.